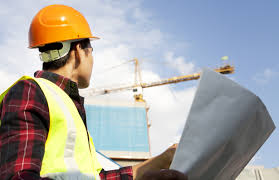 Building construction is the process of adding structure to real property or construction of buildings. The majority of building construction jobs are small renovations, such as addition of a room, or renovation of a bathroom. Often, the owner of the property acts as laborer, paymaster, and design team for the entire project. Although building construction projects typically include various common elements, such as design, financial, estimating and legal considerations, many projects of varying sizes reach undesirable end results, such as structural collapse, cost overruns, and/or litigation. For this reason, those with experience in the field make detailed plans and maintain careful oversight during the project to ensure a positive outcome.
Commercial building construction is procured privately or publicly utilizing various delivery methodologies, including cost estimating, hard bid, negotiated price, traditional, management contracting, construction management-at-risk, design & build and design-build bridging.
Residential construction practices, technologies, and resources must conform to local building authority regulations and codes of practice. Materials readily available in the area generally dictate the construction materials used (e.g. brick versus stone, versus timber). Cost of construction on a per square meter (or per square foot) basis for houses can vary dramatically based on site conditions, local regulations, economies of scale (custom designed homes are often more expensive to build) and the availability of skilled tradespeople. As residential construction (as well as all other types of construction) can generate a lot of waste, careful planning again is needed here.
Our Capabilities
Civil earthworks
Structural steelworks
Building construction works
Roads
Infrastructure development
Our Services
Project Finance
Civil Works
Cost Planning
Quality Assurance
Modular Housing
Design & Construct
NEWSLETTER SUBSCRIBE
Subscribe to our newsletter and we will inform you about newest projects and promotions.